Artificial Turf
Yards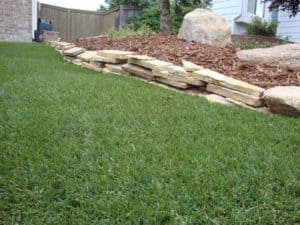 Gorgeous, natural-looking landscape that's the envy of the neighborhood. Fuss-free and weather-proof all year long. ProGreen Synthetic Grass offers solutions to the many problems homeowners face with their natural grass lawns. All of our products are durable, low maintenance, water conserving, and mud free. So, how does ProGreen set itself apart from the rest of the industry? Well, our products come with "thatch" fibers that keep the blades of grass standing upright. These products use the most advanced resin technology to date created by ProGreen. We are offer Supersoft™ fiber technology, which enhances the softness of the artificial grass blades while still ensuring the tensile strength and overall integrity. As such, no other artificial turf products can match the feel of ProGreen.
The polyethylene grass blades have an oval shape to ensure durability and softness. This also allows multi-directional movement and improves resilience. Our Delustered™ fibers are ultraviolet inhibited polyethylene fibers. Each individual layer is treated for ultraviolet degradation and exposure to extreme temperatures. Additionally, ProGreen is the only company using QuadriBIND™backings formulated from renewable resources.
All lawn products come in 15′ wide rolls. The minimum order length is 12′.
Dogs
Safe for pets, durable enough for rigorous play time and no more muddy paws. Fast-draining rinse-away cleanup. To keep your pet's area clean and odor-free we install a proper under-drain system that works in conjunction with our grass' rapid-flow backing. We also use an all-natural infill that is brushed into the fibers of the synthetic grass. Nothing beats ProGreen artificial turf for dogs!
Our K9 pet grass is great for backyards, dog runs, kennels, doggy daycare facilities, dog agility courses and more.
Putting Greens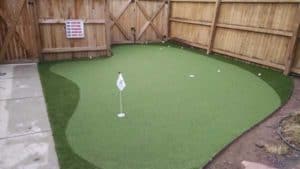 Custom breaks, elevations, and bunkers. Realistic surface quality and performance. Right in your own backyard.
Outdoor Living
Enjoy your yard! Custom-designed grassy areas around your patio, deck, or pool. Or add a backyard bocce court.
Athletic Fields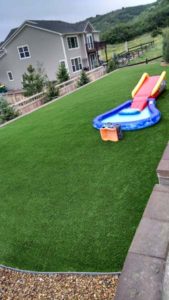 ProGreen Synthetic Grass features artificial turf for all of your athletic field needs, providing solutions to the many headaches a natural grass field can cause. For example, scheduling activities on a natural grass field can be a nightmare. Field recovery time and maintenance demands can be very unpredictable, not to mention costly, and these demands dictate when your teams can use the field. With a ProGreen™ Synthetic Grass System, scheduling and accommodating multiple activities is made easy, and your field is always ready for action.
ProGreen™ Grass Systems eliminate the need, expense and upkeep of multiple fields. ONE FIELD DOES IT ALL, ALL OF THE TIME! Football, soccer, lacrosse, field hockey, baseball/softball, gym activities, band practice, and more.
The typical natural turf field will begin to show stress at 100 hours of event use. Once 140 event-hours are reached, your natural turf field will become a natural dirt field. Additionally, keeping a natural grass field in playable condition can cost more than $30,000 per year, per field due to: chemicals, fertilizer, re-sodding, seed, water, cutting and other labor. But no amount of maintenance can prevent overuse from turning your expensive natural turf into very expensive dirt or mud.
On the other hand, a ProGreen™ Turf System can be used in excess of 500 event-hours, each year, as well as all the practice use you can schedule. In fact, usage is only limited by your scheduling and lighting. There is literally no limit to the activities it will accommodate. A ProGreen™ field provides the same usage and field inventory as four or five natural fields!
BUYER BEWARE
How Do I know Which Artificial Grass to Purchase?
Artificial grass is more popular than ever, and the interest steadily rises with each passing year. As such, there are countless different companies offering synthetic turf and installations. You no doubt are requesting bids from multiple contractors, and it is important that you understand what to ask to ensure you are getting a quality product and service. As such, we have some detailed information about the differences in artificial turf and what it can mean for you.
Beware of Low Grade Resins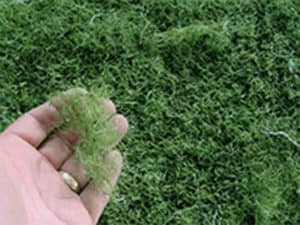 A lot of synthetic turf coming from China, and even some synthetic turf that comes from the USA, is made with SUB-STANDARD RESIN. Polyolefin resins have become the primary choice for manufacturing artificial grass. Polyethylene (PE) and to a lesser extent polypropylene (PP) are used in yarn production while backing fabrics are predominantly made of PP.
Some Synthetic turf, especially turf that comes from China, uses a LOW GRADE RESIN which means it can fade or melt (due to poor UV stabilizers in the resin), or wear prematurely (due to excessive fillers). We're seeing many failures of foreign artificial grasses as early as 3 to 4 years after installation. With quality, American-made yarn, you can expect a lifetime of 10 to 30 years, depending on usage. Not all American made yarn is created equally either. Many companies are skimping on the RESIN quality and using fillers. It's not just an issue with the yarn fibers; look out for poor quality latex backings as well! Most U.S. made turf employs a urethane secondary coating as opposed to latex. Most latex-backed turf products that come from China use too much filler in the latex, causing the backing to crack and crumble. This could lead to a nightmare situation that could put any turf company out of business!
Keep in mind that when you buy CHEAP TURF from a company that does not have a long-standing track record you could be in for an unpleasant surprise. ProGreen International has had a proven track record since 1987. ProGreen has been guaranteeing and standing behind its products for over a quarter century.
Lead in Artificial Grass
When New Jersey health officials discovered lead contaminates in synthetic turf, it caught the attention of consumers. Kids, athletes, and pets could be exposed by inhaling or swallowing lead-laced turf fibers or "dust" kicked up by those active on fields. ProGreen™ has the most stringent lead testing in the industry!
Company Philosophy
"Creating satisfied customers is our number one priority. We strive to provide the best available products alongside high-quality installations and workmanship"