Monthly Archives:
August 2018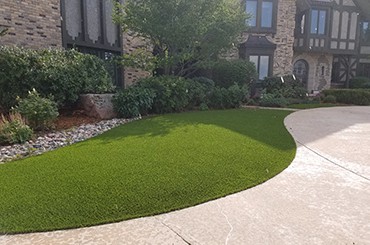 The great part of having artificial turf installed on your lawn, is that you no longer have to deal with many of the items and chores that you would normally have to do to maintain your yard. What that means to you, is that you will save both time and money. They are:
1. Lawnmower Maintenance and Supplies
Once you have artificial turf you will no longer have to sharpen the blades on your lawn mower, change the oil, purchase gas for it to run and most importantly you don't have to mow the lawn.
2. Dealing with Sprinklers and Watering your lawn
In Colorado, preparing for the spring, summer and fall means turning on your irrigation system which is always top of the list of must dos. Checking your sprinklers to make sure they're all working properly, making sure that they turn on only on your watering days and then of course getting ready for the increased water bill. It also means that still need to use the hose in certain areas to make sure that your lawn stays green.
With artificial grass you no longer have to do worry about it with ProGreen's ProFlow Technology.
3. Edger Wire Replacement & Gas
If you are like most, after you mow the lawn you have to break out the edger to edge around the lawn, trees, etc. Before doing that, you need to make sure that the wire does not have to be replaced, fill up the gas tank or rollout the long extension cord (cumbersome) to do the work.
No edging needed with Artificial Grass so you can spend more time on the things that are important to you.
4. Fertilize and Seed Your Grass
Okay, this too is part of lawn maintenance. As your grass comes out of dormancy it is important that you purchase and put down a good fertilizer and seed in those areas that need it. Now do that two to three times during the season and then when it is about to be winter, you should lay down a winterization fertilizer.
5. Weed Control Products
We get a lot of questions about weed control. Mostly because people are concerned about the chemicals that are in weed control products. If you have children, or dogs it's kind of scary that these products suggest that you stay away from them for X amount of hours before going on the lawn. Plus, having to put down the weed killer or you pick them by hand. Very time-consuming.
Once we've installed artificial grass on your lawn, you no longer have to deal with these toxic products.
If you choose to go with Pro green artificial grass, all of these items will go away. The only thing that you have to worry about is any gardening that you might do, with our Pro flow artificial grass you don't have to worry about weeds poking through so all you have to do is sit back and relax.
Get Started
If you'd like to find out more, or what it will cost to convert your lawn to artificial grass please call us at (720) 660 – 3281 or you can fill out the form by Clicking Here and we will get right back with you.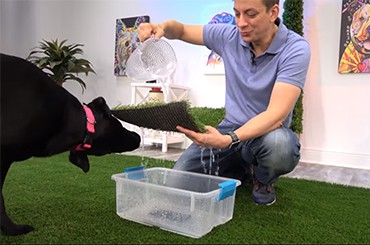 Perfect Turf is very excited to announce a ProGreen sponsored video from YouTube dog training sensation Zak George. This video was published on Saturday, August 4th and features our new K9 Champion turf.
Progreen Artificial Grass for Dogs
In this video Zak goes through the advantages of ProGreen artificial grass and how well it holds up as a dog's play area. He also shows his amazing dog training methods that has been successful for many pet owners. He goes through how tough ProGreen's turf is, as well as how soft comfortable it is for the dog in the video to play on. Zak does a great demonstration of the ProGreen Proflow Technology that does 100% drainage. Check out the video:
Who is Zak George
For those of you that are not familiar with Zak George, he is a celebrity dog trainer and YouTube star that has trained thousands of dogs throughout his dog training career. He is well known for his YouTube channel "Zak George's Dog Training Revolution" that is free for anyone to subscribe to. It is the number one destination for people that are searching for dog training information throughout the world, and has more than ten million views annually. Zak's first book "Zak George's Dog Training Revolution" was published by Penguin Random House in 2016.
Zak George's goal is to raise the standards in the dog-training industry as he utilizes the latest in scientific understanding of dog behavior while integrating the latest twenty-first century ethics. He is a strong proponent of positive reinforcement dog training for your dog, and he wants to spread the word that people shouldn't treat their dogs like members of a pack. Even though dogs are descended from wolves, they are domesticated animals are a far cry from their ancestry. Also, he takes a positive approach that allows dog owners to tailor their training to their dog's personality type and energy level, which helps to get quicker results and a much happier dog!