ProGreen started in 1987 and has been producing and installing artificial grass in the United States for 30 years. With decades of experience, they are devoted to offering only the best products for their customers synthetic turf needs.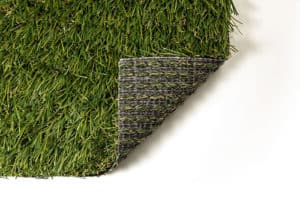 Progreen's unique Synthetic Turf has a non-perforated backing that drastically enhances the drainage effectiveness of our turf, it is called ProFlow. This technology doesn't require holes in the backing for drainage, yet it is fully permeable and increases the drainage volume by 100%.
By combining ProFlow with ProGreen's moisture-resistant fibers, you can be self-assured that their artificial grass will be cleaner, drier and free from any unpleasant pet odors. It also eliminates any problems associated with perforated backings.  It includes particles clogging the holes and interfering with the drainage effectiveness and even weeds growing through the drainage holes.
The ProGreen ProFlow synthetic turf backing is comprised of two hefty gauge woven layers, one five pick layer and a final coating of a high-viscosity polyurethane compound. Before this compound is applied to the turf, it's injected with air that creates passages that allow for free flow drainage. ProFlow will provide a percolation rate that stays consistent throughout the life of your turf system.
Turf Quality made in the USA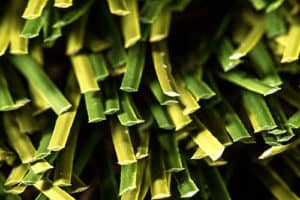 ProGreen's Synthetic Turf Systems are "Made in the USA"… 100%.  All of their artificial turf products are manufactured in their two USA based manufacturing facilities located in Dadeville, Alabama and Chatsworth, Georgia.  Many synthetic grass companies tuft their products in America but purchase the yarn from overseas.
Their sturdy artificial grass is produced in two phases: yarn extrusion and tufting.
The yarn extrusion is the process of creating the fibers
Tufting is securing these fibers to the backing
ProGreen's Synthetic Turf Systems Warranty
ProGreen is the oldest single-owned artificial turf company in the industry (since 1987), and proudly stands behind all of their products.
ProGreen Synthetic Grass are designed to last for years and they stand behind their products like no other in the industry.  And, they offer an 8-year manufacturer's warranty for their landscape grass.
They are constantly developing and improving their synthetic turf systems and build their products to specifications based on years of research, development and experience. ProGreen utilizes the most advanced yarn extrusion and tufting machines in the world using the highest-quality components that are put together with painstaking precision. This gives the most reliable, high-performance, longest-lasting turf available on the market.