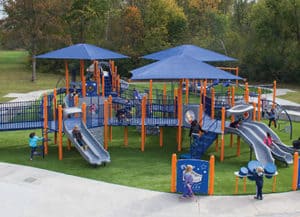 ProGreen's Playground Extreme artificial turf is the perfect synthetic turf for your family play area. Even though synthetic turf installations for playgrounds require one extra component that is not necessary for our other turf products – we choose not to use crumb rubber as an infill, rather a foam pad that is placed beneath the turf to provide added safety. These foam pads are available in one to two inches thick; the size needed is entirely dependent on the height of your play structures.
It is important to note that all of these options meet different ASTM fall-height standards. We also have a line of different foam pads that can be installed underneath the artificial playground turf, which provide extra cushioning and many other benefits including:
Your Child's Safety is important to us – we know that children will at some point time fall in their play area. That is why we provide a highly elastic more comfortable surface for falls, and they are completely free of rubber, lead and any other typical infill heavy materials. Plus, they are non-microbial and resistant to bacterial and fungal growth.
Strong and Durable – Playground Extreme Synthetic Grass is made to retain their shock absorption ratings for many, many years.
Superior artificial grass drainage – the pad's that we use drainage is so effective that your children can be outside playing within 15 minutes after a rainfall. This is a big reason that families choose our artificial playground turf versus natural grass.
Artificial Grass for the Indoors too – we can still install the foam pads underneath the artificial grass, which is a great option because kids also fall inside. Indoor or outdoor it still has the anti-microbial and anti-fungal properties, this is important because we know that kids spill things indoors as well.
It's easier to install – by using the foam pads instead of a crushed stone base (depending on your local soil conditions), it speeds up the installation process and saves you money.
Stays green and beautiful all year round!
In addition to the safety features, Progreen's artificial grass is low maintenance and will retain its beautiful green color all-year-round. It truly is the perfect material for use in home playgrounds and child care facilities. For more information about our synthetic grass for playgrounds, please do not hesitate to contact us.

If you are like many of our customers that love the game of golf and want to improve their putting game, then one of the best ways to do it is by putting an artificial turf putting green in your backyard.
We have installed them in all shapes and sizes with our Progreen artificial turf for putting greens. So if you are unsure whether or not you want to have one installed in your backyard, here are some great reasons why you should: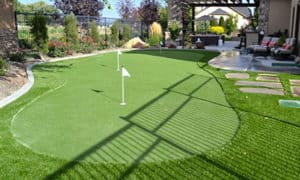 Practicing to improve your short game
What better way to do it than to step outside into your backyard and start putting within minutes. The more you practice the better are the chances that you will cut strokes off of your handicap. In a relatively short period of time, you will see an improvement in your game, one that your golf partners will envy.
Low maintenance yard care, easy to maintain
Unlike the natural grass you have in your backyard, our artificial putting greens do not require mowing, pulling out weeds, adding chemical treatments nor do you need to irrigate. Occasionally you will need to use your leaf blower to remove any leaves or other particles that may fall onto your artificial turf putting green.
Unique to your neighborhood
Sure you can have a hot tub in your backyard, even a horseshoe game but it's nothing like having your own putting green to practice on or have your friends over to entertain. You will definitely be the envy of your neighborhood… at least for those that play golf.
No fading
The robust green color of our artificial turf does not fade or change through the seasons and the years. This way you can count on having a beautiful putting green to enjoy whenever you want to.
Fun for the whole family
What better way than after a long day of work to get your family to come out and play on the putting green in your backyard. Turn off the TV, put away your mobile devices and spend some quality time and conversation with your family.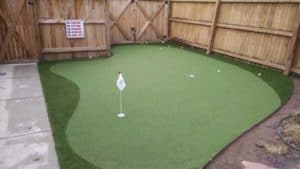 When it comes time to sell
Have a putting green in your backyard can increase the value of your home. It is unique because most other homes for sale don't have one, and for the person that truly enjoys golf would find this to be a plus to purchase your home.
Great parties and lots of fun
This is a great excuse to have a party at your home, by inviting your friends or business associates over for a friendly game of golf. There are so many different things that you can do with this, such as: competition matches, fundraisers and short game tournaments. And, what better way to watch a pro golf game and then go outside and have a little friendly putting competition!
Lastly, what a great way to relieve the stress from the day or week… whenever you want.
Perfect turf offers a variety of different synthetic turfs, and has one specifically for artificial turf putting greens. To get more information and to schedule a free quote for your backyard please contact us at (303) 829 – 3374 or click here to fill out a form.
Perfect Turf Service Area
Serving Denver, Castle Pines, Parker, Castle Rock, Highlands Ranch, Lone Tree, Littleton, Douglas County, Colorado and more.