We have installed ProGreen Artificial Grass for Residential Yards throughout Colorado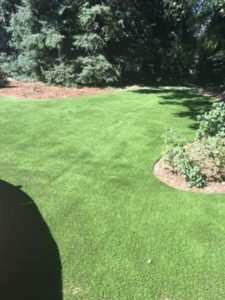 Our customers have had us install it in their back and front yards, patios, decks, putting greens, playgrounds, pet areas and even around a pool.
Many choose to go with an artificial grass lawn because it either takes too much time to maintain or to grow natural grass.   We install our lawns with ProGreen turf products so you can be assured of having a beautiful lush grass yard that requires minimal effort.
Click Here to see the different Artificial Grass for Residential for Yards that we have to offer.
Why not enjoy a low maintenance Artificial Grass Lawn all year long
Having a gorgeous, natural-looking artificial grass lawn will be the envy of your neighborhood. ProGreen's Synthetic Grass offers solutions to the many problems homeowners face with their grass lawns. All of our turf products are durable, low maintenance, water conserving, and mud free.
Progreen's Turf Products are made in America from start to finish.  They have complete control over the manufacturing process so they pay extra attention to the quality and durability of their artificial grass for residential yards.
Each individual layer is treated for ultraviolet degradation and exposure to extreme temperatures, which allows all ProGreen grass to look just as good as the day it was installed for years. We also ensure that all of our fibers are delustered, eliminating any unnatural shine that artificial grass may have. It's this extra effort that allows you to enjoy a stunning, low-maintenance lawn for years to come.
As with all of our products, ProGreen landscape turf is completely free of lead and other heavy metals and safe for kids and pets.
MADE IN THE USA
ProGreen has been producing and installing synthetic grass from start to finish in their own facilities in the USA for 30 years. We chose to be a dealer for them because of it's high quality, durability and reliability for our customers to use year round.