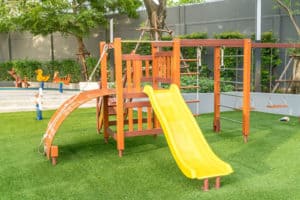 We understand the importance of safety for your children, that is why we take great care whenever we install artificial grass play areas for a family. Especially since falls are the number one cause of injuries for kids, which is why it's vital that your playground surfacing material should help reduce the likelihood of injuries.
Click Here to see the different Artificial Playground Turf that we have to offer.
All of our Synthetic Turf systems for playgrounds meet or exceed the

ASTM fall height requirements
If you wish, we would be more than happy to produce all of the related test data for your own peace of mind.
Besides meeting the necessary fall height safety features, our artificial playground turf is soft, and we use non-abrasive material that will help reduce scrapes and skinned knees.
See our latest post on Artificial Playground Turf for Your Family, Click Here
Whenever we do an artificial turf installation in Denver, Douglas County in Colorado, we make sure that the playgrounds have a compacted base, then along with artificial grass infill is also added. Even though synthetic turf installations for playgrounds require one extra component that is not necessary for our other turf products – a foam pad placed beneath the turf to provide added safety. These foam pads are available in one to two inches thick; the size needed is entirely dependent on the height of your play structures.