The benefits of artificial grass make them a much more reasonable choice compared to natural grass. The Denver Metro, Douglas County and surrounding area are known for almost 300 sunny days a year, its mild to hot temperatures as well as rain and snow conditions. Our artificial turf products allow you to maintain a beautiful lawn without worrying about watering or other landscape maintenance requirements. At Perfect Turf, we provide a wide range of artificial turf for both residential and commercial properties. We use 100% Made-in-USA turf.
Our Artificial Turf Lawn Solutions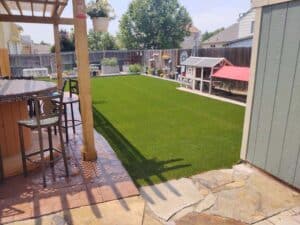 We provide custom artificial turf lawn solutions for all types of properties and applications. This includes:
Golf turf, and putting greens
Playgrounds and athletic fields
Playground turf for children
Pet turf and pet areas
Benefits of Our Artificial Grass
With decades of combined industry experience, our team brings the highest-quality artificial grass products to homes, commercial landscapes, golf courses, and athletic fields in Colorado. Some of the main benefits of choosing our artificial turf lawn can be summed up as follows:
Save Water
There is no need to water your artificial turf in the early morning and late evening. The only watering it will need is for occasional cleaning. The large volume of water thus saved will help reduce your water bill.
Low-Maintenance Lawn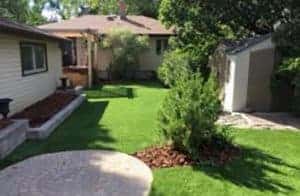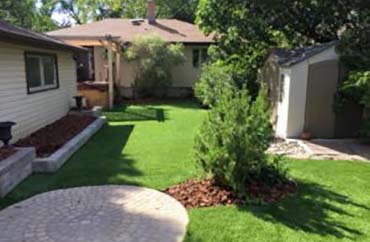 Your artificial lawn will need no periodic mowing. Synthetic grass never grows and the time and effort saved can be spent in enjoying your lawn with your family, friends, and pets. All it will require is minimal maintenance that can be completed with a leaf blower. It can also help to fluff any area that receives a lot of traffic. Besides, there will be no need to apply fertilizers or pesticides, further helping you save money.
Beautiful Lawn Forever
Once professionally installed, our artificial grass will look good in all weather conditions. It stays green and looks like real grass through all the seasons. It can also withstand regular traffic. Weather changes will not have any effect on it. Besides, sunlight will not cause any fading.
If you want to have a durable, beautiful, and easy-to-maintain artificial turf in Denver Metro, Perfect Turf can help you with different types of products. We service all the surrounding counties and the entire State of Colorado.
Lets Get Started
Feel free to call us today for more information at (303) 829-8018. You may also send us your queries using this Online Form.