We have had several businesses in Colorado, including Denver switch over to artificial grass for their commercial landscape. The reason why is because they are looking to reduce their water usage and to conserve this natural resource.
One of the first things they are looking for is to remove their natural grass and replace it with artificial turf yet still have that great landscape look and feel. We can do that.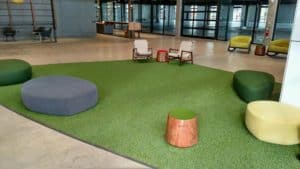 Artificial grass will save on maintenance costs and water usage
And, it is aesthetically pleasing… all year long. Whether you are wanting it for your business's outdoor area or even for an interior space that needs a fresh look, artificial grass for your commercial business area is the answer.
Putting greens in car dealerships
Pool surrounds at hotels
Play yards at dog kennels
Road medians for governments
Dog parks at condos and hotels
Athletic fields for schools
Playgrounds for daycare facilities
Landscapes for countless industries
Rooftop patios for restaurants and bars
Window displays for retailers
Flooring for trade show booths
And much more
MADE IN THE USA
All of our artificial turf products are made in America from start to finish. They have complete control over the manufacturing process so they pay extra attention to the quality and durability of their artificial grass for commercial businesses.
Lets Get Started
If you are wanting to switch your natural grass lawn to our low maintenance artificial turf please give us a call at (303) 829-8018, or fill-out the form to "Get a Free Quote" and we will get back with you right away.