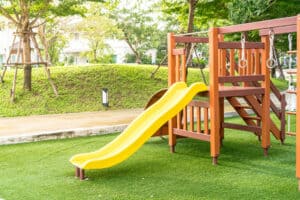 Whether a playground is for your backyard or a park, Artificial Turf is an awesome low maintenance solution. No more watering the lawn and mowing will save you both time and money.
If you have want to enhance your playground area and have it be durable from constant children traffic then consider installing artificial grass for playgrounds.
Artificial turf provides padding that won't get dispatched so it can protect kids from injuries. Besides that, they are allergen-free and non-toxic allowing kids to play without the risk of getting all stuffed up.
What is included whenever we install artificial grass play areas?
Whenever we do an artificial turf installation in Denver, Douglas County in Colorado, we make sure that the playgrounds have a compacted base, then along with artificial grass infill is also added.
MADE IN THE USA
All of our artificial turf products are made in America from start to finish. They have complete control over the manufacturing process so they pay extra attention to the quality and durability of their artificial grass for residential yards.
Lets Get Started
If you are wanting to switch your natural grass lawn to our low maintenance artificial turf please give us a call at (303) 829-8018, or fill-out the form to "Get a Free Quote" and we will get back with you right away.