When people think about artificial grass, normally two main uses come to mind: residential backyards and athletic fields. But the truth is, artificial turf goes much deeper. Synthetic grass has a lot of potential for commercial landscaping needs as well. Whether you have a small coffee shop or a large facility, there are several ways that artificial grass can beautify your business.
Here's how artificial grass commercial landscape is making life easier for many:
Doggy Daycare
Pets are playful little creatures and this is one of the reasons why we love them. But natural grass lawns certainly don't. Dogs in particular rip up the backyard when they want to use it as a bathroom. Fortunately, artificial grass commercial landscape is incredibly durable and easy to clean, making it perfect for high-traffic pet facilities and pet parks.
Golf Greens
One of the best things you can do to a golf facility is install high-quality artificial turf. It is an ideal solution every step of the way. Synthetic grass is an excellent way to make your mini-golf facility look fresh and green all year round.
Storefronts
Artificial grass commercial landscape can make your life easier as a business owner. There are already plenty of things that require your attention and lawn maintenance shouldn't be one of them. Even if your shop is not getting much foot traffic, an artificial lawn can make your retail space look aesthetic. It will look fresh, green, and welcoming year-round.
I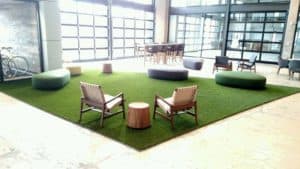 ndoor Athletic Facilities & Office Space

Sports people love artificial turf. Moreover, artificial grass commercial landscape is not just super attractive but it is also an affordable and simple solution for athletic facilities. Whether you are operating an indoor tennis court, a private soccer field or a training facility, and even for office areas for your employees to enjoy using artificial turf. It is low-maintenance, easy to install, and safer.
Swimming Pools
A combination of liquid, smooth concrete and a lot of foot traffic is simply disastrous. The areas near swimming pools are usually slippery and can cause a lot of accidents. Luckily, artificial turf is ideal for the poolside as it offers traction while absorbing excess water. Furthermore, synthetic turf doesn't fade even when it comes in contact with various chemicals. Atop, it doesn't create mud, making it easy to keep your pool clean.
Children's Play Areas
Playgrounds also require a lot of safety, and artificial grass is the ideal solution. It is non-toxic, impossible to dig up, and easier to clean. Most importantly, it is extremely soft, meaning it will prevent injuries.
Communal Spaces
Whether you own an apartment building, run a community center or an office building, it is always a good idea to install artificial turf in your common areas. It will increase the aesthetic appeal, add charm, and create a relaxing zone.
MADE IN THE USA
All of our artificial turf products are made in America from start to finish. They have complete control over the manufacturing process so they pay extra attention to the quality and durability of their artificial grass for your pet(s).
Lets Get Started
Perfect turf offers a variety of different synthetic turfs, and has one specific artificial turf for your needs. To get more information and to schedule a free quote for your commercial property please contact us at (303) 829 – 8018 or click here to fill out a form.