Spring is undoubtedly one of the best times of the year to install artificial grass. Not only because the day is long and the weather is favorable but also because clearing of weeds for ground preparation is easy. Also, the rainfall that usually characterizes winter would have softened the ground. Hence base preparation is convenient in spring.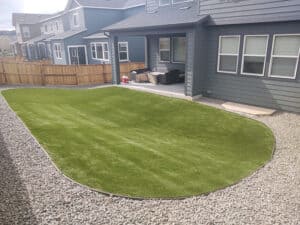 Natural Grass versus Artificial Turf
There are many reasons to choose artificial turf over natural grass. With synthetic grass, you have little maintenance to do. You will never have cause to get out and pull weeds or add weed killers nor having to worry about watering the grass to keep it green. Your lawn remains green all year round. They are also uniform throughout, have a layered cushion, in case you fall.
More Reasons to Install Artificial Turf
If you are a fan of water conservation, then you will definitely be interested in artificial grass. An artificial grass lawn could save you several gallons of water annually versus natural grass. Even if you don't care much about water conservation, you will certainly care about your budget, the money you will save from water conservation and reduced lawn maintenance fees. Installing artificial turf is a one-time investment. Once it is done, you will save on the water bill, as well as the cost of maintenance.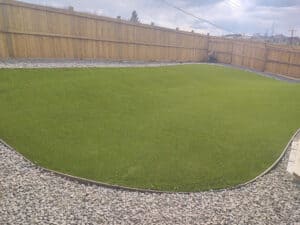 How We Install Artificial Grass
The first thing we do when we install artificial grass is ground preparation. This is a very important stage of the artificial grass installation and the type of ground we are installing it on. When we do it, we first remove the old lawn and then prepare the soil. We add a base of a special blend of materials, then smooth and compact it to your lawn. The infill can be a combination of sand and rubber. Once it is ready, we then begin installing the new artificial grass to the prepared area.
When installing on concrete, decking, or any other hard surface, the job is more straightforward. Once we have the the base prepared, just as with a standard lawn, the next step is for us to install the artificial grass.
Do it Yourself or Hire a Professional

Although installing artificial turf is something you can do yourself, which is good, you will save money but it does take time to do it right. That is why most hire a professional like us to do it for them. We do this all day long, dealing with all different types of landscape areas giving that professional touch that will make a significant difference to your lawn whatever it is being used for. When a professional installation is done, your lawn will look perfect and last a long time. We offer all different types of artificial grass to choose from, and if you wish to do it yourself, we do sell everything you would need to do it.
We Can Help You
At Perfect Turf, we specialize in the installation of high-quality artificial turfs. All our turfs are made in the United States, safe for both humans and pets, mud-free, and weather-resistant. They look natural and require minimum maintenance. We have installed artificial turf in many homes and business places in the Denver Metro, Douglas County and other surrounding areas. We install beautiful lawns, landscapes, pet turfs, golf turfs, playground turfs, sports fields, commercial landscapes, and many more.
We have a variety of choices for you to choose from. Our installers are top experts, our services are high-quality, and our pricing is competitive.
Lets Get Started
If you are wanting to switch your natural grass lawn to our low maintenance artificial turf please give us a call at (303) 829-8018, or fill-out the form to "Get a Free Quote" and we will get back with you right away.