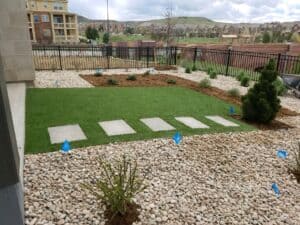 One of the main reasons that people choose to convert over to Artificial Grass is because they are tired of having to maintain their yard to keep it looking nice. And, as Colorado has been experiencing a drought more and more people are choosing to make the change.
Once done, no more mowing the lawn, pulling weeds, or use weed killers which are not great for the family or pets. Also, you no longer have to water your lawn since artificial turf does not require it, there for you save money.
Why people choose Perfect Turf, is because we offer only the highest quality products. Whenever we meet with our customers, we work with them to make sure that we choose the right artificial turf product for their needs.
There are options when choosing the artificial turf for your yard
Most people are not aware that there are several different types of artificial grass. We have specific turf for:
Artificial Grass Preparation and Installation
We take deep pride in our Artificial Turf and Installation services for our customers. Our installers are professional, highly experienced and we have very hiring guidelines. From start to finish, we remove the existing sod, prep the base for installation of your turf then add an infill once it is installed.
Perfect Turf is also an Authorized Service Provider for Home Depot in Colorado. They have high hiring standards that we must follow, with specific hiring guidelines before we employ anyone, including doing a full background check.
MADE IN THE USA
All of our artificial turf products are made in America from start to finish. They have complete control over the manufacturing process so they pay extra attention to the quality and durability of their artificial grass for residential yards.
Lets Get Started
If you are wanting to switch your natural grass lawn to our low maintenance artificial turf please give us a call at (303) 829-8018, or fill-out the form to "Get a Free Quote" and we will get back with you right away.