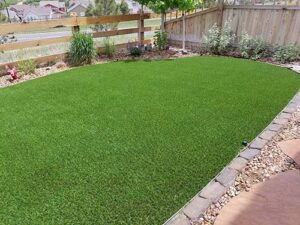 Lawn maintenance can be frustrating, time consuming and expensive to maintain. Not with artificial turf.
If your home is in Colorado and have a natural lawn, then you are used to your grass turning brown in the late fall and winter and then starting to turn green again in the spring. And then of course when summer hits and we get those hot days your grass begins to burn. To prevent this, it requires a lot of watering, fertilizer and good lawn maintenance.
It's an endless cycle that can be resolved when Artificial Grass is installed. It is easy to do, just reach out to us to get a quote on what it will take to convert your lawn to a beautiful artificial lawn you can be proud of.
MADE IN THE USA
All of our artificial turf products are made in America from start to finish. They have complete control over the manufacturing process so they pay extra attention to the quality and durability of their artificial grass for residential yards.
Lets Get Started
If you are wanting to switch your natural grass lawn to our low maintenance artificial turf please give us a call at (303) 829-8018, or fill-out the form to "Get a Free Quote" and we will get back with you right away.