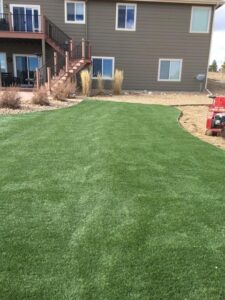 Now is a great time to seriously consider switching your lawn over to artificial turf. Here are some of the reasons that our customers made the change:
No sprinklers to blow out, no lawn aeration, no weed killers necessary, and you save money because you no longer have to water your lawn. Plus, you can put away your lawnmower, or having to hire someone to mow it for you. Now you can take the extra time to relax, spend time with your family or start that project that you always wanted to do.
Not all Artificial Turf is the Same
We install artificial turf based on what it will be used for. For instance, if they want it for their front and/or backyard so they do not have to deal with the constant upkeep of mowing, edging, dealing with weeds, and watering it. Based on their needs we would install turf specifically for that purpose.
For others, they may want to have us install an artificial grass putting green to step up their game, or for their children's playground and pet area. We can even put in an athletic field for high use. For each of these the artificial turf may be different, as well as what infill-material we put under it.
Reliable, Safe and Easy to Maintain
Our turf is safe for both children and pets and is durable for rigorous play time without having to deal with them bringing in dirt and mud. Fast-draining rinse-away cleanup.
Perfect Turf has installed Artificial Turf throughout the Denver Metro, Douglas County and surrounding areas. We always smile when our customers say how much they enjoy how great it looks, and not having to deal with the constant upkeep of a natural lawn throughout the year.
Made in the USA
All of our artificial turf products are made in America from start to finish. They have complete control over the manufacturing process and pay extra attention to the quality and durability of their artificial grass for residential yards and business properties.
Ready to get Started
If you would like to find out more, please give us a call at (303) 829-8018 or would like us to give you a quote, CLICK HERE
To go to our website Perfect Turf Go Here