It seems like this winter season (2022) in Colorado the snow fall has been more sporadic than what we are used to. Because of this the snow almost immediately melts, making your lawn wet and muddy which means mud tracking into your home whenever your children, pets and you go outside. It sure would be nice to prevent this from happening, well you can if you have an artificial turf lawn.
What is Artificial Grass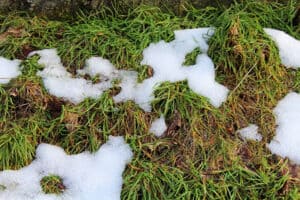 Each individual turf layer is treated for ultraviolet degradation and exposure to extreme temperatures, which allows all of our artificial grass to look just as good as the day it was installed. We also ensure that all of our fibers are de-lustered, eliminating any unnatural shine that artificial grass may have.
Perfect Turf offers different types of Synthetic Grass solutions for homeowners. It is high quality, durable artificial grass for residential and commercial areas. All of the artificial turf products we use are made in USA from start to finish.
No More Tracking Mud into your Home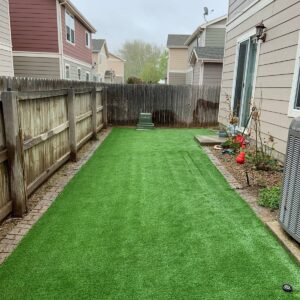 Once we have prepped your area with the proper materials, we make sure that it will drain properly when we install your artificial grass. Because of this meticulous installation process by our professional highly trained installers, mud will no longer be an issue. This is just another example as to why people are making the transition to Artificial grass.
What Else… A Low-Maintenance Lawn
No longer will you have to mow your lawn since synthetic grass never grows. That means no weed killers needed, no more watering your lawn which will save you money since you do not have to water your lawn anymore. All you have to do is kick back and enjoy your lawn with your family, friends, and pets.
Lets Get Started
If you are interested in getting a quote on what it will take to convert your lawn over to artificial grass, please give us a call at (303) 829-8018 or Click Here to fill-out the form to email us.