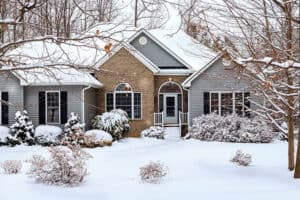 Rain and snow can put a real damper on your day, causing many of us to be cooped up inside with nothing to do. Although, they do help keep your lawn healthy and green but in Colorado it does not happen often in the lower areas, so you have to water more frequently. This is a big reason why so many homeowners have made the change from natural grass lawns to artificial turf, especially in wintry and hot climates.
Consider what you dislike most about your natural lawn, is it the maintenance and upkeep? With an artificial turf lawn you no longer have to worry because it requires very little upkeep.
How does heavy rain, snow, and cold weather impact both types of lawn? Below we will breakdown the difference between the two and let you decide what is the right choice for your lawn.
Natural Grass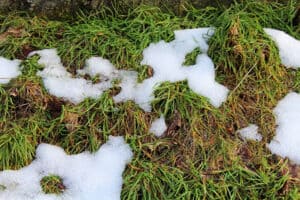 For many, when natural grass has substantial rainfall and/or snow it can cause issues such as root problems, loss of nutrients, insect issues, and weeds sprouting up to ruin your beautifully lush lawn.
Another common occurrence are potholes occurring throughout the yard. This happens from water becoming stagnant in certain areas of the yard for too long. It can also attract bugs including mosquitoes which can be a real nuisance.
Let us not forget about dirt and mud. Since natural grass grows on soil, and then it rains, and/or snows the conditions can cause the soil to turn into mud. Just stepping outside on your lawn becomes easy to drag it back into the house. This does not occur with artificial grass.
In cold areas like Colorado which also has hot summers, natural grass requires even more maintenance commitments from homeowners. In the late fall, grass goes dormant before the snow comes in for the winter. Homeowners usually blowout their sprinkler systems otherwise they risk the extreme cold freezing your sprinkler pipes which can potentially cause flooding to your home. In the summer without rain, your lawn will require a lot of watering to keep it green.
Also, most homeowners choose to aerate their lawns before and after the winter months to help their grass to grow, many add weed and bug killers which can be a risk to both your children and pets. Once winter is over, then you have to start all over again to bring your lush lawn back. Costing a lot of time and money.
Artificial Turf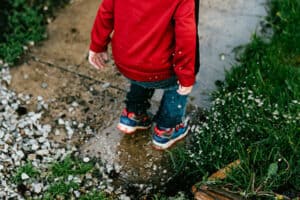 Artificial turf continues to be an option in Colorado because of its low maintenance, durability, and water savings. It is designed to withstand outdoor conditions such as rain, snow, and extreme cold and hot weather leaving an artificial lawn unphased.
Also, if you live in hot climate areas that do not get a lot of water, artificial turf is a great option to cut down on your water usage.
The type of artificial turf Perfect Turf installs has a perforated drainage system that helps prevent any water build up or puddles from occurring. It is designed and installed so that the water will drain properly. Plus, we make sure when we install the turf that there is proper drainage away from your home when it rains or snows. Artificial grass does occasionally need to be hosed down to remove any dirt, leaves and rocks that typically happens to lawns. By doing this it will clean the blades and keep your lawn looking lush and green.
As mentioned above, the key to an efficient artificial turf is that it is perforated which allows the water to drain underneath to avoid any potential build up. As snow melts, it becomes a smoother and cleaner process to drain. These drainage holes are important to have otherwise the water has nowhere to flow to.
Another factor whether it rains, or snows is that there is no mud with artificial grass. A lot of families find that after they have an artificial turf lawn installed, they no longer have to worry about children and pets tracking mud into the house or damaging the lawn in any way.
The Winner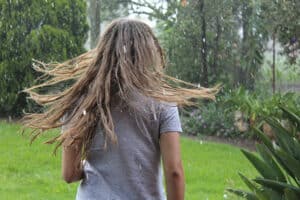 Artificial turf is the clear-cut winner here. There is no comparison between the two when considering heavy rain, snow, and the potential damage it can cause to your lawn unless you have artificial grass.
It is extremely durable and can handle different types of weather quite easily. It is low maintenance, and you will save money on your water bill. It is a total Win Win.
Make the change today.
Let Us Help
Perfect Turf has a team of industry experts to handle any lawn change. We offer the highest quality artificial grass; all made in the United States along with a team of professional installers to make the process quick and seamless.
If now is the right time to make the change to artificial grass, please give us a call at (303) 829-8018 or Click Here and fill out a form to receive a quote from our team of experts.