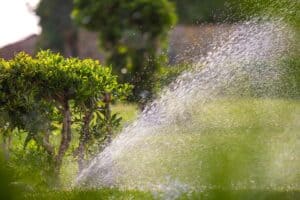 With the different Colorado seasons that we have, it means that you have to prepare your lawn for the Spring, Summer and Fall, which means that constant preparation is necessary to keep your lawn ready for each one. Fertilizing the lawn in the fall and spring, aeration, mowing your lawn, watering it every 3rd day… etc. And now that it is summer, it's hot, not a whole lot of moisture and you trying to keep it green which means a lot more watering, more fertilizer… Exhausting.
All of these take time and money, but not with Artificial Grass. No longer will you have to do the above since the turf does not require it to be done, giving you free time to do the things you truly enjoy doing.
What maintenance do you have to do with Artificial Grass
Rake or blow leaves from any trees or other debris that might fall on it. Rinsing down pet urine, picking up when your dog does its business. Brush the blades so that they stand upright so they stay plush and beautiful… That is it!
MADE IN THE USA
All of our artificial turf products are made in America from start to finish. They have complete control over the manufacturing process so they pay extra attention to the quality and durability of their artificial grass for residential yards.
Lets Get Started
If you are wanting to switch your natural grass lawn to our low maintenance artificial turf please give us a call at (303) 829-8018, or fill-out the form to "Get a Free Quote" and we will get back with you right away.