There has been a high demand for artificial grass in Colorado. Mostly because people are learning that it is low maintenance, uses little water compared to a natural grass lawn therefore reducing your water bill. Other benefits are not having to deal with pesticides or herbicides, fertilizer, plus you no longer have to deal with aeration and mowing the lawn. But is it safe from lead?
Lets start with Lead in Artificial Grass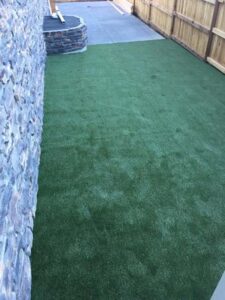 Lead levels in artificial turf became a concern after two studies were conducted in 2007 and 2008. The 2007 study was conducted by the New Jersey Department of Health and Senior Services (NJDHSS), which tested artificial turf athletic fields after finding it in a field in Newark, New Jersey. Originally, the group tested 12 fields and found that two contained lead that was about 4,000 parts per million. This absolutely caused concern because the levels were considerably higher than soil lead levels are believed to be safe in the state of New Jersey. Because of that, further studies were conducted and found that dust from synthetic turf fields contained lead.
After the study was completed, the Center for Environmental Health tested found that roughly 50 artificial grass products could be purchased in California (2008). Out of these products, they found about 15 contained lead at levels greater than 600 parts per million.
The CDC wrote about Childhood Lead Poisoning Prevention and artificial grass when it was discovered that some could have lead. For many it opened their eyes about the potential danger of Artificial Grass if it does not have the high-quality standards that we have.
Choosing a Reliable Artificial Turf Company
All of Perfect Turf's artificial grass and infill is of the highest grade, lead free and are made in the USA.
We recommend if you are looking at having artificial turf installed, one of the first questions you should always ask is if there is lead in it. If the company does not know then we suggest that you stay away from them and deal with a company you can trust, like us. Same applies to the infill that is laid down below the turf. As mentioned above, Perfect Turf artificial grass is lead free.
If you live in Colorado and are interested in having artificial grass installed in your home or business, or if you have questions, please give us a call at (303) 829-8018, to get a FREE QUOTE