For many, their dogs are part of the family, but they sure can wreak havoc to a yard. Trying to keep your lawn green and luscious in Colorado during spring through fall is a challenge, especially if your dog likes to dig, urinate causing yellow spots, and then have to deal with picking up after them. Even in the winter you have to deal with mud and dried grass that is brought into the house. Not with Artificial Grass!
Artificial Grass is perfect with Dog Runs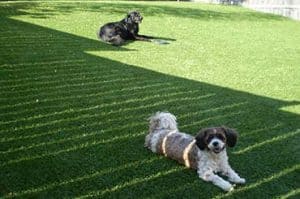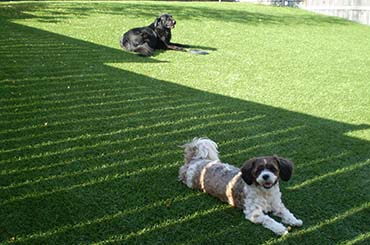 The pluses are that your dog will no longer be able to dig, cause urine stains, drag in mud and dried grass into the house. And that stinky smell that you get after they poop goes away much faster than on a natural lawn.
Besides being great for kids to play on too you will be relieved at the little time it takes to maintain. Simply hose it down, rake any areas that need to be lifted and you are done.
Types of Dog Runs
It can be a simple open back yard with artificial grass surrounded by a wood, brick fence or a favorite with a narrow dog run with a chain linked fence.
We have also seen several dog kennels switch from an all cement floor to adding a artificial grass area for the dogs to play on. It is easier on their paws and legs, yet still easy to clean up.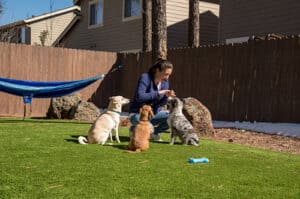 Simply pickup poop when needed and then hose down the dog run area and you are all done.
Made in the USA
All of our artificial turf products are made in America from start to finish. They have complete control over the manufacturing process and pay extra attention to the quality and durability of their artificial grass for residential yards and business properties. That means no delay receiving the turf so we can install it at the time scheduled.
Ready to get Started
If you would like to find out more on us installing a dog run with artificial grass to your yard or business, please give us a call at (303) 829-8018 or would like us to give you a quote, CLICK HERE
To go to our website Perfect Turf Go Here