Over the past few years many homeowners are choosing Artificial turf, but what many don't realize is that a lot of dog care businesses have as well. The reason why is because they are a perfect match. On this website we have covered many of the benefits of artificial grass for dogs on our blog. What we haven't discussed is how having artificial turf installed in your doggy daycare facility can actually increase your business.
Artificial turf is easier to maintain and is a benefit for your

doggy care facility
It will definitely reduce your maintenance costs and your dogs will love it, and you will love it even more. It's easy to clean up all of the dogs urine and other business by hosing it down or doing a quick pickup.
It always looks good… Green and Beautiful
The great thing about artificial turf is that it is immune to the different seasons and is not affected by rainfall, snow, and it stays green all year long. People that pass by your doggy day care facility will be able to see an eye-catching play area for your dogs that draws attention for all the right reasons for someone to use your facility.
No mud, which means clean dogs. If your doggy day care center uses natural grass, more than likely you will have an issue with your dog's getting dirty when it rains and it gets muddy. Or if you don't have natural grass but only have cement for the dogs to play on, it's not the most comfortable for their paws when running around playing with other dogs.
Artificial turf versus natural grass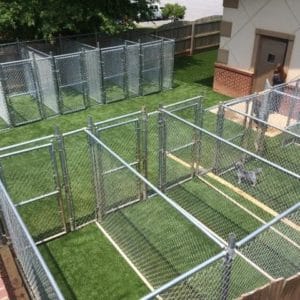 Artificial turf is clean, and as far as cleaning all you have to do is rinse it down and you're done. Not only when it rains or snows, but it also can help protect against fleas and ticks. With natural grass that is where they thrive, and when you use pro greens artificial turf which was featured Zak George in a previous blog post we wrote showing the benefits of our turf.
We use Zeofill to help control pet odor, it is perfect for the dogs that come to your dog care facility.
ARTIFICIAL TURF MADE IN THE USA
We have been installing synthetic grass from start to finish for several years in the State of Colorado. We choose all our synthetic turf because of it's high quality, durability and reliability for our customers to use year round.
Lets Get Started
If you should have questions or would like to get a free quote, please contact us at (303) 660-3281 or you can email us, please Click Here