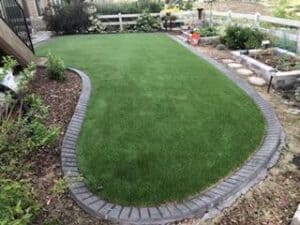 A recent article in the Castle Rock News Press reports that a new ordinance in the City of Castle Rock states that front yard natural turf for new homes will no longer be allowed. Its purpose is to conserve water up to 100 gallons per day to reduce water demands during peak periods.
Under the new ordinance, the town requires developers to install Coloradoscape front yards and will offer developers lower system development fees and prorated water rates in exchange for installing Coloradoscape back yards with a maximum of 500 square feet of turf. Castle Rock defines Coloradoscape as having 75% plant coverage.
Developers that don't install the back yard will not get discounted system development fees or prorated water rates. Developers are still required to design the back yard, though homeowners are not required to implement those designs.
Developers at the meeting pushed back against the incentive structure for being too punitive.
To read the full article, Click Here
Artificial Turf as a Coloradoscape Solution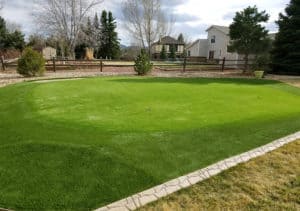 One of the many reasons that people are converting their lawns over to artificial turf is because it does not require watering. The only time that you may want to use water on it is for the occasional rinsing.  The amount water saving is huge thus conserving it and saving money on your water bill.
Once we have installed your turf, it will not only save money, it will look good in all weather conditions. It will stay green and look like real grass throughout all the seasons. It can also withstand regular traffic. Weather changes will not have any effect on it. Even when the sun shines on it your artificial turf will not fade.
If you want to have a durable, beautiful, and easy-to-maintain artificial turf in Castle Rock, Castle Pines, Douglas County, the Denver and Metro areas, Perfect Turf can help you with different types of products. We service all the surrounding counties and the entire State of Colorado.
Low Maintenance Artificial Grass
No more mowing, nor more weed killers and if you hire people to mow, no more.  Maintenance is the occasional raking or blow leaves from any trees or other debris that might fall on your artificial lawn.  Rinsing down pet urine, picking up when your dog does its business. Just brush the blades so that they stand upright so they stay plush and beautiful… That is it!
MADE IN THE USA
All of our artificial turf products are made in America from start to finish. They have complete control over the manufacturing process so they pay extra attention to the quality and durability of their artificial grass for your pet(s).
Lets Get Started
Perfect turf offers a variety of different synthetic turfs, and has one specific artificial turf for your needs. To get more information and to schedule a free quote for your commercial property please contact us at (303) 829 – 8018 or click here to fill out a form.